Pike Angling Guide for Ireland
Kevin Lyons has over 30 years experience with angling in Ireland.
Ireland for many years has been hailed as one of the world's premium Pike fishing destinations. Historically, Ireland was noted for its salmon and trout fishing, but it has now developed an excellent reputation for the quality of its pike fishing. There is no statutory close season for pike in Ireland and anglers may fish for pike all year round. Pike are now one of the most highly sought after sport fish species in Europe, Ireland boasts thousands of lakes (Loughs) and several thousand kilometres of pike bearing rivers and canals which are largely underutilised. The availability and quality of fishing means that Irish pike angling can satisfy the expectations of specialist, experienced and novice anglers alike. In the interest of the conservation of Pike Melview Lodge operates a strict catch and release policy.
 The Pike (Esox lucius) are the largest of the freshwater predators and are abundant in all Irish waters from small to large Loughs as well as rivers and canals, Irish pike grow quickly and can reach up to 20 Kg. (over 40 lbs.) on some Irish waters with fish of 10 Kg. (over 20 lbs.) being quite common in many of our lakes and rivers. Pike are opportunistic feeders and prey on small fodder fish such as Roach, Rudd, eels and Hybrids. Its physical make up – the long enamelled green mottled body, the great head with its huge eyes and large mouth armed with a fearsome array of teeth makes the pike an efficient hunter. The sporting qualities and hard fighting nature of the wild Irish pike are some of the reasons that this fish is so sought after by sport anglers.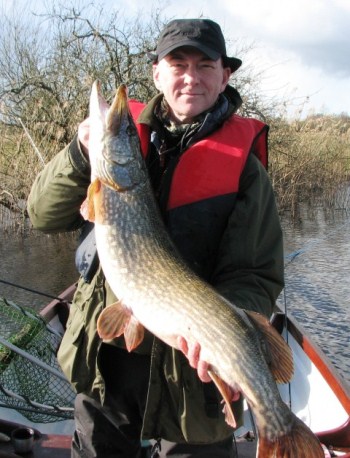 Pike Fishing Holiday in Ireland (Why Ireland you Ask)
Ireland has quality pike fishing to offer the visiting angler which will help you to catch that pike of a lifetime. Ireland is now readily accessible by sea and air from both UK and mainland Europe. The availability of low cost air and sea fares enables visiting anglers to tailor their visit and maximise their fishing time. Kevin can arrange all your ferry needs at discounted prices so speak to Kevin at Melview Lodge and he will get you the best deal possible, Pike anglers visiting Ireland often target our huge network of pike lakes, many of which are concentrated in the Shannon and Erne River Catchments. Kevin your guide at Melview Lodge will save you time by showing you the best places to fish, There are lakes to suit every type of pike angler from smaller lakes to some huge lakes like Lough Ree and Gowna, many pike anglers like to fish from a boat which Kevin at Melview Lodge will provide free of charge to his guests. The pike angler can use a wide range of methods including wobbling and static dead baiting, spinning, lure and fly fishing. Kevin can also arrange a good range of dead baits suitable for pike fishing in the waters surrounding Melview Lodge.
Behaviour of Irish Pike
Irish pike spawn between February and April, usually in the shallow margins of rivers and lakes. Many of the bigger pike taken are captured just before the spawning period. Kevin will advise on potential spawning areas of lakes and rivers to maximise the chances of taking a fish of a lifetime.
The behaviour of pike depends on the behaviour of the prey or fodder species. Big-water pike may be more dependent on shoals of fish like Bream and Roach which move around, and the Pike tend to follow these shoals. When the Pike angler studies the movement of the fodder/bait fish they are more likely to meet with success, and this is why all the boats at Melview Lodge come with a fish finder free of charge so to locate these shoals.
The time of day can also be important on certain waters; the period around dawn can be very productive as can the final hours of daylight. In the colder months I have found that some pike will only be active and feed around midday as this is generally when the highest water temperatures occur, this behaviour may vary from different waters and size of fishery during the year. Kevin will advise on the best times on the venues you are hoping to catch a big pike.
Pike Angling Methods
All modern methods of pike fishing may be practised in Ireland, with the exception of live baiting, which is prohibited by law. Many other methods can be adapted to particular situations to produce the best results when fishing from shore or boat.
Dead Baiting
Pike anglers can choose from an array of natural dead baits such as Roach, Hybrids, eels, Mackerel, Herring and Smelt. These dead baits are readily available from Kevin.
One of the most popular and productive methods to catch pike in Ireland is the use of dead baits fished in a sink-and-draw (wobbled) manner from shore or boat, position your dead bait on the margins of the shoal of fodder (prey) fish and leave it for a period before reposition it. The areas where there is the cover of reeds or overhanging trees can also be very productive, I have found that static methods are also particularly useful in the colder months. Float ledgered dead baits can also be effective from the shore, and float trolled dead baits are very productive when fishing from a boat.
Artificial lure
There is a huge array of artificial lures from which the pike angler can choose to fish and these are designed to fish at varying depths and speeds from both shore and boat. The use of artificial lures can be very rewarding and the angler is likely to catch more fish when using this method under the right conditions. The use of jerk and crank baits from a boat produces many specimen pike from our bigger lakes. Varying the speed of the retrieve and the depth at which the lure is fished will contribute to the success achieved by this method. The choice of colour can be important and Kevin will advise on this before your fishing session.
Fly Fishing
Fly fishing is becoming an increasingly popular method of fishing for pike in Ireland, and Kevin at Melview Lodge has some good venues available that gives the angler the opportunity to catch a large fish on fly gear. Fly fishing for pike has proved to be successful on both Loughs and rivers and is a particularly good method on shallower waters in the warmer months. A nine to ten foot AFTM 9-10, rod is required to cast the large pike flies, and both floating and sinking techniques can be used.
Boat Fishing
The use of a boat will enable the angler to gain access to water that may not be fishable from the bank, and they also allow the angler to cover a greater area of water than bank fishing.
Lough fishing may be done from the bank but often a boat will be required and these come supplied in your package, trolling is a favoured way of fishing the bigger waters because so much ground may be covered in the course of a day. Either artificial or natural baits may be used, and there are many variations of the method such as float trolling. An echo sounder may be a useful aid on our bigger Loughs. The equipment is used primarily to ascertain depth and to locate shoals of fodder/bait fish and what depth they are feeding at. Big pike are usually found on the edge of these shoals, and again I would recommend the guiding services of Kevin at Melview Lodge particularly on our bigger Loughs if the angler is unfamiliar with the water.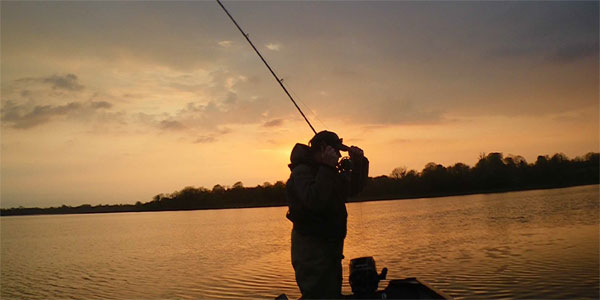 Angling Reports
Kevin Lyons from Melview Lodge compiles angling reports for the area for many angling information sources, and these are compiled on this website.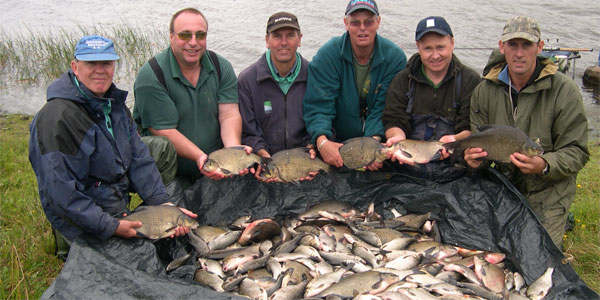 Melview Lodge specialise in accommodation for anglers and we've had hundreds of guests with great catches. This gallery contains just some of the coarse catches our guests have made.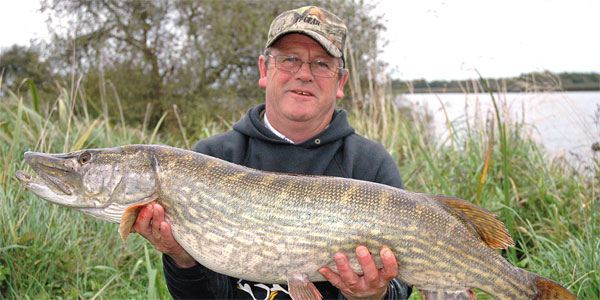 Many come to Melview Lodge for the challenge of Irelands great pike fishing - this galley contains some photos of the pike our guests have caught.