First Irish Pike Trip for Dutch Angler at Melview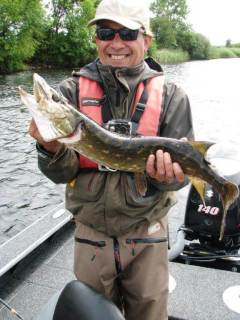 Laurence Ham from the Netherlands was over in Ireland for the very first time for a spot of pike fishing and decided to stay with host and guide Kevin of Melview Fishing Lodge, the first part of the week was a little slow for Laurence but picked up towards the end of the week.
Kevin said, 'I had the pleasure of fishing with Laurence on two of his days and it was great to see his passion for fishing and the enjoyment he gets from it'.
'His first pike in Ireland was not a monster but the joy on his face was a picture and one that neither I nor he will forget, and we won't talk about the five bigger ones we lost'.
Great time had by all and we hope to see him back in Ireland next year.
ALL FISH RETURNED UNHARMED.
#CPRsavesfish