Howard with one of his nice Rudd.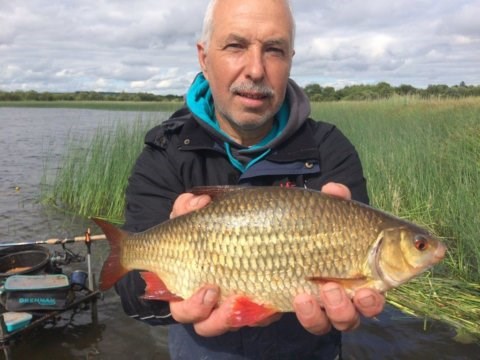 Nigel and Howard from Devon were over once again for their annual fishing trip to Ireland and Melview Fishing Lodge in Longford, these two guys are very keen anglers who like to go that extra mile if need be to catch fish.
The plan had to change a little when they arrived due to the weather conditions. The effort the guys put into preparing venues and prebaiting was worth it in the end. The first part of their week started a little slow but then the hard work paid off for them with some cracking Roach catches and some specimen Rudd and Bream, various cocktails fished at 35 yrds using feeder tactics into 18 ft were getting results.
Ater a few days of this the Pike decided to come to the dinner table which put the bigger fish off feeding so a change of venue was required. At the time of writing the prebaiting was done and things are looking good for them, log on next week to see how the week ended for Nigel and Howard.