Chistophe Mougin with his first Pike of the day.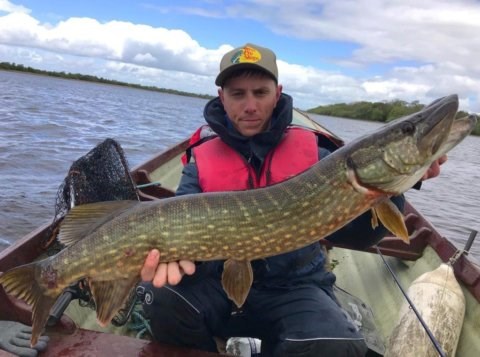 Etienne and friends Arnaud, Chistophe and Patrice from France had a great weeks Pike fishing while staying with us at Melview Fishing Lodge in Longford. Etienne who has been before and knows the water well guided his friends around for the week and what a good weeks fishing it was for them.
Things started a bit slow for the on the first two days but then it picked up as the weather started to changed and they caught some nice Pike.

They mainly used Jerk baits along with both soft and hard lures using a cast and retrieve method. Some of the bigger Pike were caught in shallow water close to the reedy areas.

It's always good to see anglers like Etienne returning especially when new guys tag along for the first time and end up catching some nice Pike during their stay.
Great group of guys, thanks for your company it was a lot of fun having you stay and hope to see you again soon.
All fish returned unharmed.