Phil – All smiles for Phil with his first Irish Pike.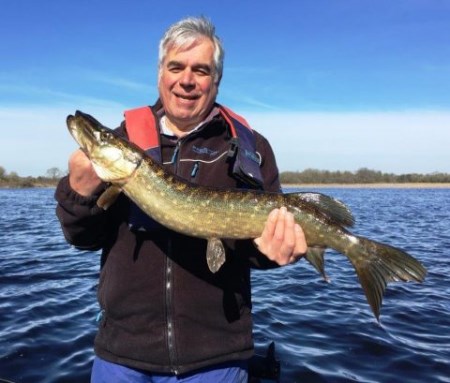 Phil Rogers and friend Geoff Anderson from the UK were over for a 5 day Pike fishing trip with Kevin of Melview Fishing Lodge in Longford. Kevin has all the news on how they're getting on…
Phil is a regular at Melview Lodge and is normally here every year for the Bream and Tench fishing but decided to bring a mate and try his hand at the Pike fishing in Ireland. Again with high water levels and changing weather conditions things were not perfect but they still managed to produce some Pike, fishing with various dead baits we fished two different venues and both managed to produce fish. Kevin said, I had the pleasure of guiding and fishing with them on three of their trips out and to start off with it was a bit slow but still a good laugh. It was all smiles when Phil managed to catch his first Pike in Ireland, which fell to a dead roach.
Then it was the turn of his mate Geoff who managed a couple of cracking Pike to 22lb on Mackerel. The Pike trip was rounded off nicely when I caught a Trout of over 7 lbs which put a smile on my face for the rest of the session.
Well done guys and thanks for some great company it was a pleasure to fish with you.
All fish returned unharmed.