Three buddies land 1,072lbs of fish in 6 days at Melview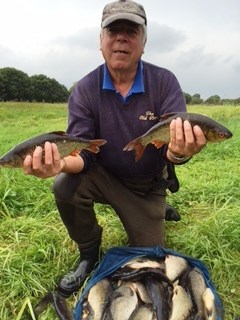 Phil Rogers, Les Humphreys and Roger Beal from the borders of Hampshire and Berkshire had a cracking weeks fishing while staying at Melview Fishing Lodge catching a total of 1,072 lb during their 6 days of fishing. Kevin said, these guys know there stuff when it comes to fishing. These lads are regular anglers to Melview Fishing Lodge and are familiar with most of the surrounding waters, prebaiting just two venues for the week they were able to put some great weights together.
The first venue was mainly Bream along with a few good Roach, feeder proved the best method fished at around 35 yards in to 4 meters using various hook cocktails. The second prebaited venue produced some good catches of Hybrids and Roach, feeder was once again the preferred method fished at around 30 yards into around 6 meters again using various hook baits. Kevin said, the lads put in the time effort and bait and reaped the rewards.