Nigel pictured with a cracking catch of Hybrids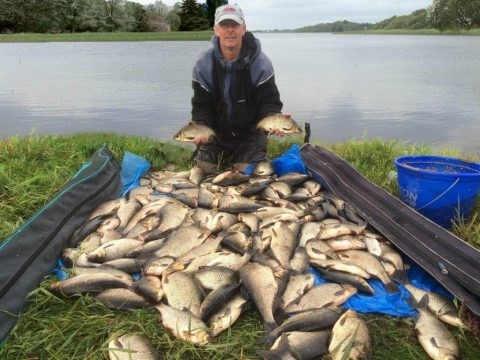 Nigel and Howard from Devon had a cracking weeks fishing while staying at Melview Fishing Lodge in Longford, Kevin said the lads come over every year and stay so they are very familiar with the waters around the area.
The first couple of days were spent prebaiting one of their favourite spots only to produce lots of Roach, we then decided to change the plan and prebait a deep part of a Lough. Well it paid off for the guys when it produced around 520lb of Hybrids and some cracking Roach for the 3 remaining days, fishing feeder at about 30 yards into 20 feet using various hook baits proved to be the way to go.
Kevin said, the guys put a lot of time and effort in to prebaiting and preparing the swim and this goes to show that with a little extra effort the fishing in Ireland is as good as it ever was. Well done lads look forward to seeing you next year, thanks.
NOT ALL SPECIES OF FISH FEATURED IN PICTURES DUE TO FISH WELFARE.
All fish photograph and released unharmed.