John Grace, James Smith and Ross Naylor with good Bream and Hybrid catch.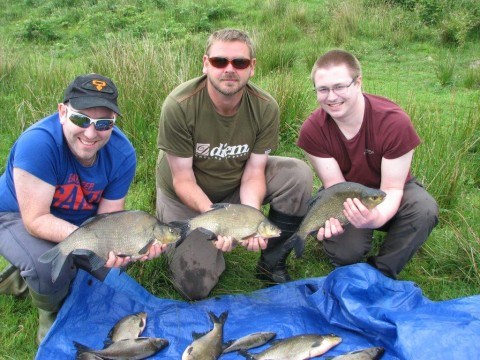 John Grace along with friends James, Ross and Cormac were up for a Long weekends fishing with Kevin at Melview Fishing Lodge. The guys are no strangers when it comes to fishing the waters around Longford as they have now stayed a number of times with Kevin for both pike and coarse fishing. On arrival with prebait close to hand it was all systems go for John, James and Ross. The first session after prebaiting the night before saw them catching roach, small skimmers and a couple of nice bream. The sessions that followed saw more and more bream being caught, friend Cormac joined them for the last one and he was rewarded with a couple of nice tench and small bream.
The guys always put a lot of time and effort into their fishing be it when they come for pike or coarse fishing. To be fair, the last day did see the clouds open and it rained hard and I think if they had stayed on for another day or two the lake would have produced well for them due to the preparation they had done beforehand. Thanks Lads and hope to see you again soon.
All fish returned unharmed.