The Pike for Alain get larger as the days pass.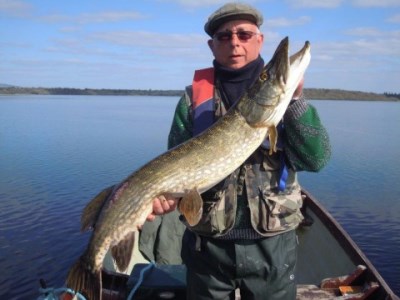 Alain Renaudin from France was here staying at Melview Fishing Lodge once again for his three week Pike fishing holiday, the first week was a little slow due to weather conditions but produced some cracking fish. Kevin said we used a combination of different methods Hard and soft lures and dead baits, as time went on and weather started to improve and water levels started to drop the bigger fish started to feed producing fish to 17lb.

Kevin also took the opportunity to have a fish while guiding Alain and also produced some very nice Pike, but the best moment was when Kevin hooked in to a cracking Trout that went to the scales at 10lb – 10oz. We still have another week to go so check in next week to see how things go, and it's looking good.