William Murphy with his second of the day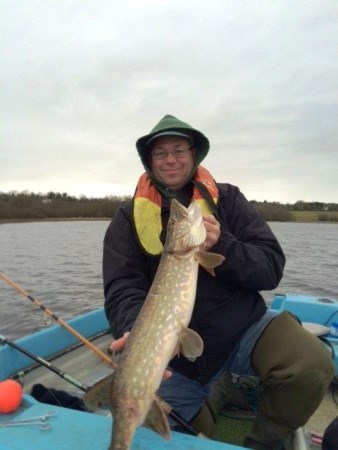 Sean English along with friend Bill were up for a long weekends Pike fishing with Kevin at Melview Lodge in Longford with near perfect weather conditions for their trip. The first day they fished a local lake that they had been on before while staying with Kevin and all the fish caught were taken on dead baits.
Kevin said that on the second day he had the pleasure of guiding the pair on waters that were new to them. They arrived at the first spot to fish and within a space of 30 minutes they had landed 3 Pike. Everyone thought it was going to be one of those days but as time went on the fish seemed to go off the feed. We tried a couple of other places that seemed to have plenty of bait fish but sill they seemed to be not in the mood for feeding.
I myself had one run that was short lived when the Pike just dropped the bait. The last day they fished the same place as the day before catching another 4 Pike before calling it a day. Not to worry a great weekend with good company can't ask for more than that.