John Grace with his first of the day.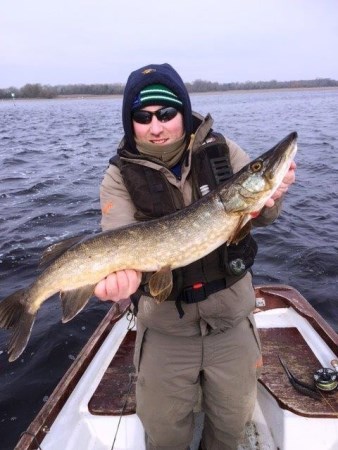 John Grace along with friends James, Cormac andShay travelled up to Longford for a long weekends Pike fishing. Their base onceagain was MelviewLodge Longford, the guys werefaced with very cold starts to their fishing sessions but things started to getgoing once the temperatures started to rise a little.
Fishing mainly dead baits Kevin said they managed somecracking fish during their stay, it was not all boat fishing they did manage afew good fish when the weather turned a little windy forcing them to fish fromthe bank later in the day.
On the last day James landed a cracking fish estimated ataround 24lb+ which is his personal best by 10lb, however I say estimatedbecause his delight turned to disappointment when between him and John sortingout the scales the fish was being kept in the water for its safety and managedto swim to freedom. The main thing is no harm was caused to the fish, but weall decided to give John his new P/B at 24lb as it was landed and unhooked.Sorry John had to mention it, you have heard the saying "YOU NEED A BIGGERBOAT" well you will have to get yourself a bigger net mate. Well done lads,great company hope to see you again soon.