Ian and Ralf from Merseyside with some nice Bream, Roach and Hybrids.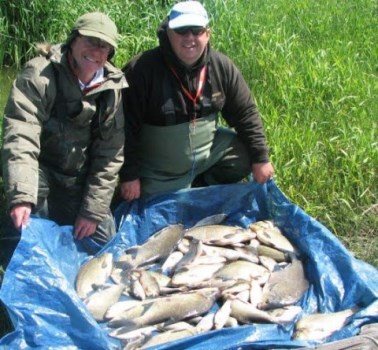 Ian and Ralf from Merseyside who are regular visitors to Ireland and Melview fishing Lodge were faced with bright, hot conditions for their week of angling. It was decided that prebaiting in the late evening and fishing very early morning was going to be required.
Two venues were chosen for prebaiting at around 21.30 to 22.00 and then the fishing started at around 04.30 to beat the bright sunlight during the day.This turned out to be the correct approach for them producing some cracking Bream, Hybrids and nice Roach and catches between 30lb and 65lb. Kevin said I had spoken to a few anglers at different venues and it was the same story of just a few small fish being caught during the day so the weather had effected a lot of catch rates in a lot of places, well done to the lads for their time and work they put into it.
Keep nets and warm weather
There aren't a lot of pictures due to Kevin's policy of not using keep nets in hot, bright conditions. Oxygen levels can be low in bright hot weather so please have a thought for the fish if you do use nets especially when returning the fish.