Eddy from Belgium with a Pike of 101cm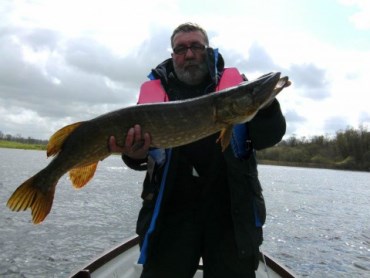 Eddy and Ivan from Belgium who are regular visitors to Ireland and Melview Lodge in Longford were here once again for their annual Pike fishing holiday, using all different methods of fishing they managed to bring 146 Pike to the boat during their stay and they lost count of how many they lost.
There was also a nice bonus Trout for Ivan using dead bait Roach who had never caught one before. Kevin said the guys are experienced when it comes to fishing for Pike in these local waters and always do well. In some of the spots thought were going to get more monster Pike than they managed but that's fishing and I'm sure they will return next year for some more Pike fishing in Ireland. All fish returned to the water alive and well to fight another day.