Chris Carr and Greg Wright with part of their cracking roach and hybrid catch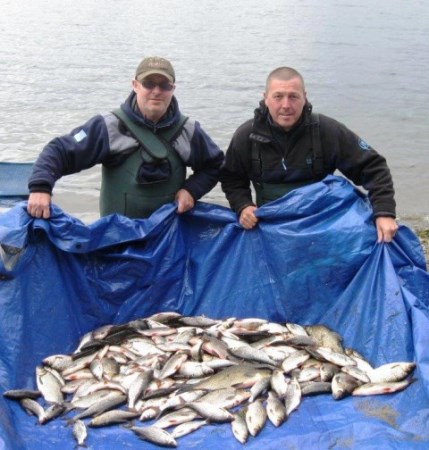 Allan Mannion, Ste Albiston, Chris Carr and Greg Wright from the UK were back in Ireland for a serious weeks fishing after taking a few years break.
Allan and friend Ste have stayed with Kevin at Melview Lodge before which produced some big catches of bream and tench, the lads arrived and were straight into prebaiting. Kevin said when these guys prebait they really do use plenty of it, their first day's fishing produced lots of quality roach and hybrids and the second day some small bream joined the large shoal of fish in front of them.
On the third day a lot of pike had moved in and were attacking every third fish that was being caught. Large trout were feeding on the shoal of roach just beyond their feeder line. Casting into 30 feet of water the bait was being taken seconds after hitting the water so they decided to use much larger baits on the hooks to try and get it to the bottom where they knew the bream were waiting. This proved to be the case when Allan took several large Bream to 7lb. There was no let up for the remaining two days which saw the guys catching plenty of nice roach, hybrids with just a few bream showing and day six was cancelled to high winds on the Lough.