Long standing Friends Neil and Dave with a couple of Bream from their catch.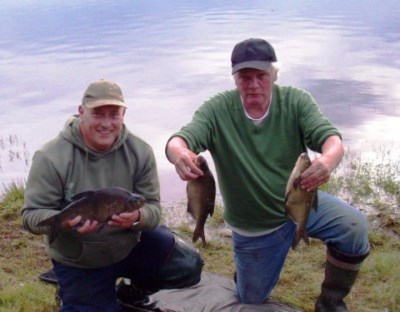 Neil Brooks and friends Dave, Alan and Martin were over for their annual weeks fishing holiday, the guys from Blackpool have been visiting Ireland for over 25 years and have a daily record of everyone's catch weights and the places they fished every time stretching back the whole 25 years. Kevin Lyons tells us it makes very good reading, the guys had some nice fishing every day but the Bream did not show in any great numbers for them.
Kevin said the guys could not have done much more to try and temp the fish, with what they were telling me it seemed like they were picking a few off during the morning along with Hybrids and Roach but the main shoal of Bream were feeding at night. It's not just the fishing these lads come for it's the whole experience that Ireland has to offer, (thanks for the night out at the races lad ). However the guys done well and I'm sure they will be back again to do battle with the fish in Ireland next year, thanks guys.