All Smiles for brothers Peter and Ian Bolton.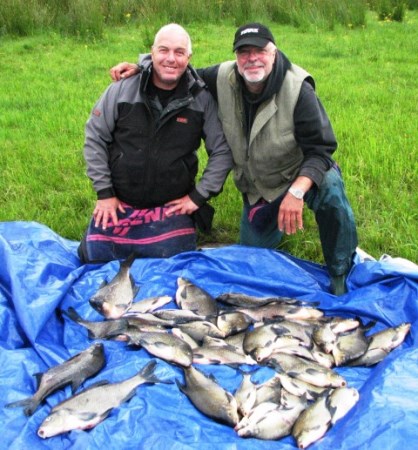 Andy Corr, Andy Donegan, along with brothers Peter and Ian Bolton from the UK were over for their annual fishing trip to Ireland…
This year they decided to stay with Kevin and Jane at Melview Lodge in Longford, Kevin said I could see they were serious about their fishing when they started to unload their various particle baits they intended for the prebait. They started well when they fished a venue known for it's good Roach, Hybrids, Rudd and Perch producing bags to around 30lb. After a couple of days of silver fish they decided to prebait another venue to try for the Bream and Tench, the weather was against them most of the time with the sun coming up very early and causing the fish not to feed like normal. However a change to very early and late evening fishing proved to be the answer producing some great catches of Bream, Hybrids and Tench. Kevin said the lads have been doing really well considering the hot conditions, next week we see how they get on in the second part of their holiday with some good Bream catches reported and some good Tench fishing on the pole.