Allan with another great 20lb +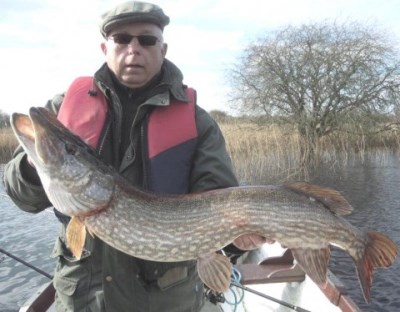 Last week we reported on Allan from France who was having a great few weeks Pike fishing while staying at Melview Lodge in Longford, Kevin said the water levels were dropping fast and I felt their was a good chance of some nice Pike using dead baits. Things started slow with fish not showing until after 1pm, the last three day's at the same time of the day it was like someone had rang a dinner bell.
Fish 18lb to 25lb were caught but the second from last saw the biggest fish fall to float fished dead Roach fished a few inches off the bottom, The fish was full of spawn so great care was taken when moving into the bank to weigh the fish and it went to the scales at 33lb 7oz.