Kevin and Gary with 52 Bream for 181 lb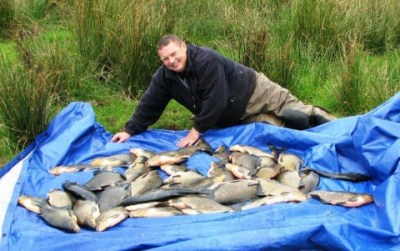 Last week we reported on Kevin of Melview Lodge and one of his guests Gary Owens from Scotland, Kevin said they had already fished a two hour and 6 hour session with great results that totalled 214 lb between them. After they had completed another heavy prebaiting session it was time for a brew up and something to eat. During this time it was said that they could not better their last session.
"How wrong were we" says Kevin.
After a few hours rest they started to fish again and the first hour was very slow. Then out of the blue Gary was into a good fish and no sooner had he got it in the landing net Kevin found himself into a Bream too. The fish had come onto the feed and some of the Bream, when weighed, were going just over the 7lb mark. The duo also had good Hybrids and Roach but released them straight back due to the size and amount of Bream caught. After about six hours things calmed down a little and we decided to call a end to the session, the total joint weight was 181 lb giving us a total weight of 395 lb of Bream over the two and a half sessions.