Gary and Kevin share a bream catch of 174 lb.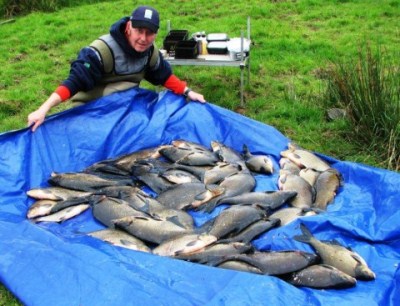 We decided to stop at 03:00 for a rest and resumed fishing at 06:00, The result was 174 lb. joint catch of Bream to 7 lb. by 13:00. With picture taken and fish weighed all were released back unharmed, we then prebaited again and took a well deserved rest for a few hours. Next week we report on how the next session went.
The change in the weather conditions has not had the affect I first thought it would, the fishing has been really on form producing Bream to over 7lb and plenty of Hybrids and Roach along with a few Tench. Prebaiting has again proved worthwhile attracting lots of fish into the areas being fished, Mainly feeder fished worm and maggot cocktails have produced the best fishing. Log on next week when I will report on myself and Gary Owens next fishing session.