Nick and Jose from Belgium with a nice catch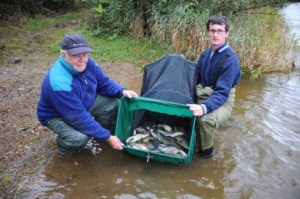 Fishing in and around Longford has been hampered by the bad weather of late however the guys from Belgium still managed to get into the Bream, Hybrids, Roach and Perch, fishing at distance on the feeder seemed the best method.
Average catches of around 50lb a day were managed which is down on past weeks, and this would be due to the bad weather we have been experiencing over the past week. Kevin of Melview lodge in Longford said the lads done very well considering the weather and I'm sure they would of put some good weights together if the weather had been a little better for them, at the time of writing the weather is still bad making it hard to fish anywhere.