Dave Barnard and John Hurd from the UK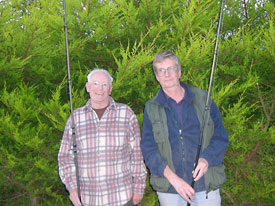 The weather and the high water levels are still having an affect on some local waters. The Strokestown lakes are still high and in some parts flooded making fishing very difficult. Lakes in the North Longford area are still producing lots of Roach, Hybrids and small Bream to 2lbs, with bag weights averaging between 20lbs and 50lbs.
Dave Barnard and John Hurd angling guests of Melview lodge commented that despite the high levels of water they were still able to put together some good bags of fish, quality Roach and Hybrids along with some small Bream made up their catches each day. Kevin himself had a chance to have a days fishing with them and managed a mixed net to 50lbs.