Dave, Mark and Steve from Peterborough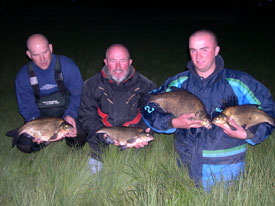 Lakes in and around the Strokestown area are producing some Bream and Tench now, and some lakes in the North Longford area have been producing also. However a lot of catches are mainly being made up of hybrids, Roach and skimmers. At the time of writing heavy rainfall has affected water levels on some lakes, hopefully this won't spoil the fishing over the coming week.
A short evening session produced these nice Bream, Pictured here are Steve, Dave and son Mark. After the swim had started to produce some fine fish the Pike decided it was tea time for them and took four good Roach and one Bream and three feeders which then ended the Bream and Roach activity for that day.