Annual visit to Melview for Ron and Len!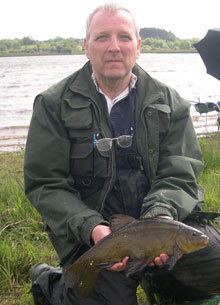 The Strokestown lakes have been slow to get going, but should get into form before long. Other lakes in and around the Longford area have been producing well, Bream, Tench, Roach and hybrids for bag weights to 80lbs, with some fish to specimen weight. Fishing should improve further once the weather settles a little as the weather proved difficult on some days last week.
Ron and Len from the UK, angling guests of Melview lodge were over for their annual holiday for the second time. Their host Kevin commented that they had to put up with some awful weather and that at some venues the fish were still spawning. Still, they were able to put together some good mixed bags of fish, which included Bream, Tench, Roach and Hybrids..