John and Bob on their 39th visit to Ireland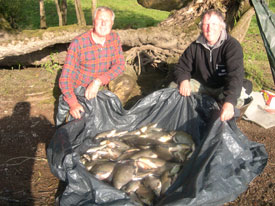 We have seen the bright weather change the fishing over the past few days, however there is some great fishing to be had. Pre-baiting and building up the swim and fishing at first light should do the trick. If you are feeder fishing and find your swim has gone a little quiet try putting out some lose feed, corn pellets etc to see if that makes a difference.
John and Bob from Sussex in the UK have been to Ireland no less than thirty nine time's over the years. This year they were angling guests of Melview Lodge, hosts Kevin and Jane Lyons. . Kevin provided some expert advice and put them on the local waters. Due to the bright weather things where a little slow to start with, but this did not put John and bob off. They were able to use all their years of experience to bag some good quality fish. Some great Roach, Hybrids and Bream were the main catches with even some bonus Tench to finish with.