Big Rudd part of 97lb catch for Nigel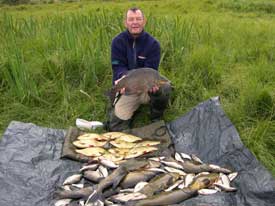 Fishing all around has really picked up, however there is still a shortage of anglers on the ground so pre-baiting is a must to get the bait into the swims. Once you have found a good spot to fish try and pre-bait a few time's before fishing. This will most certainly improve your chances of fish. Strokestown and some of the north Longford lakes have been producing well with catches to 97lbs with some cracking specimen fish caught.
Nigel Barns from Preston who we reported on last week finished his holiday in style. Following the expert advice of Kevin Lyons he caught well all week with the best fishing during early morning sessions. Kevin pre-baited swims each night with about 60 balls consisting of brown crumb, casters, corn, pellets and dead maggots and the hard work paid off. The reward was whopping Bream to 6lbs, Roach to 2lbs, Hybrids to 3lbs and lots of small Bream and wait for it beautiful Rudd to 3lbs. Nigel was feeder fishing at 25 / 30 yards using worm and maggots cocktails and remarked that he had been coming to Ireland for years but this had to be one of the best fishing holidays ever. He will definitely be returning again next year.