Martyn, Alan, Neal and Dave from Blackpool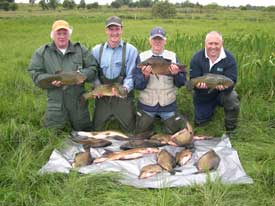 The fishing on some lakes has again been slow due to lack of anglers and adequate pre-baiting. However some anglers have used this to their advantage and in some cases have found that they were the only ones fishing the lakes. Pre-baiting once or twice before fishing venues has seen great results, again Strokestown and North Longford lakes have been producing steady weights and in some cases some specimen fish. No report for Roosky due lack of anglers on the ground.
Angling guests of Melview Lodge Martyn, Alan, Neal and Dave from Blackpool fished four different lakes and each had reasonably good nets with the best fishing on the last two days with some quality fish encountered, Bream to 5lb 12oz, Tench to 5lbs, Pike to 11lbs and lots of good Roach, Hybrids and skimmers. The last day belonged to Alan who caught Bream and Tench casting the feeder twenty yards using red maggot.