Father and Son team up and do well!!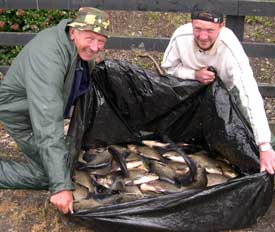 Father and son Arthur and Darren staying at Melview Lodge in Longford teamed up to spend a weeks fishing under Kevin Lyons direction. The week started okay with mixed catches of Roach, Hybrids and skimmers from lakes in the North Longford area. They were able to save the best for last with a 100lb plus catch of Bream, Roach and Hybrids. Arthur and Darren enjoyed the trip and intend returning next year.
Generally the fishing has been steady enough in the Longford area with catches of Roach and Hybrids on most venues. The better catches of Bream, Hybrids and Roach were confined to venues which were pre-baited and fished. Other venues are suffering from lack of anglers and pre-baiting.