Ken and Alan from Notts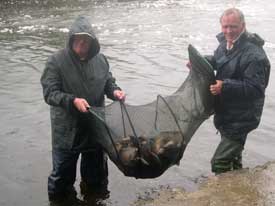 Ken and Alan form Nottingham regular visitors to Ireland had a change of area this year and also stayed at Melview Lodge in Longford. The week started with some Bream to 4lbs 10ozs and some good Tench. The next day after pre-baiting the same swim they had improved catches. Their holiday finished with a estimated catch of 70lbs of Bream, Hybrids, Roach and a Rudd of nearly 2lb on the final day. Ken and Alan enjoyed the trip and the relaxation.
During the very hot spell two weeks ago some anglers struggled in the very bright conditions during the day but yielded better catches during late evening sessions into dusk .
The fishing has picked up again at most venues in the past few days due to a change in the weather over the weekend and with more overcast weather forecast we should see a further improvement in catches. The Strokestown lakes have been producing Bream and a few nice Tench although not in the abundance they are capable of. Some lakes in the North Longford ( Ballinamuck) area have seen some steady catches of Roach, Hybrids and a few Bream. Good catches were also recorded at Lanesborough , no report for Roosky area this week.