Brian and Pam Metcalf from Adelaide, Australia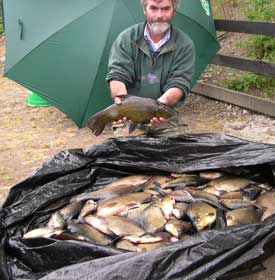 The hot weather and bright sunshine seemed to have had an effect on most venues. Over recent days the weather had cooled somewhat. However the forecast is for some more bright and warm conditions to return so we will have to wait and see what the outcome is. Best to confine fishing to late evening, overnight or dawn in the very short nights we have a present during the bright weather. The fish still have to still feed at some stage and you just might just hit it big time. GOOD LUCK!
Brian Metcalf from Adelaide in Australia spent a week with Kevin and Jane at Melview Lodge in Longford. The first part of the week saw the best catches of Bream and Tench very early in the morning. During the second half of his holiday catches improved with Bream, Hybrids and Roach showing as the weather changed. Brian changed his travel arrangements and decided to extend his holiday in a bid to get a few more good catches.