Good catches of Roach and Hybrids despite the hot conditions!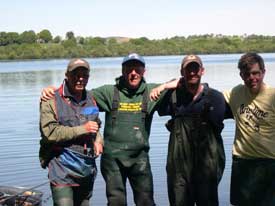 Keith, Mick, Martin and Stuart from Birmingham also had to deal with the extreme weather conditions. They made some early starts and most were rewarded with good steady catches of Bream, Hybrids, Roach and some bonus Tench. Mick said that they have had a great week. They will be going home with great sun tans!
The weather has gone from one extreme to another, just as all the flood waters started to recede and the fishing started to pick up again, along comes the bright and very hot weather. The extreme heat and early brightness has caused some venues to switch off around mid morning. However some anglers have been getting up as early as 01:30am to set off in a bid to beat the weather.