Good catchs for Brian & Billy from Stockton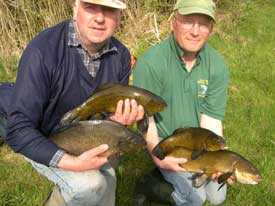 Brian and Billy from Stockton in the UK had some good catches of fish throughout the week. However on some days conditions were difficult and fish are getting ready to spawn on some waters. Despite this they managed some respectable catches of Roach and Hybrids from the Shannon and had some good Tench and Bream from the Strokestown lakes.
The heavy rain over the past days has seen water levels rise. The weather station forecasts more rain but I think once the weather has settled down the fish will feed in large numbers and weights will improve again, still some great Tench and Bream being caught despite all this.