Gary and Andy from North London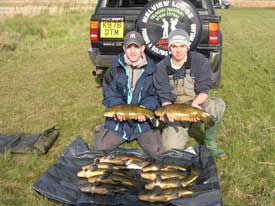 Lakes in Strokestown and Roosky areas started off well but as the week went on and the weather became more unsettled catches dropped back. Some of the fish caught by visiting anglers from the UK were of specimen size – Bream to 7lb 5oz and Tench to 6lb 3oz. At the time of writing this report down pours of cold rain and hail stones is hampering angling. The River Shannon at Lanesboro and Boyle seem to have a good number of fish in them now, once the weather becomes settled again, this should see some of the lake's improve.
Gary and Andy angling guests of Melview Lodge had great fishing on this their first trip to Ireland. They were put on select swims by Kevin and after putting in a lot of effort pre-baiting they were duly rewarded with good bags of Tench and on another pre-baited peg they had a great catch of Bream to 6lb. Gary and Andy said they had heard the fishing had changed in Ireland. Well, after some sound advice and good results they changed their opinion. They will be back next year if not before.