Richard and Ron from Birmingham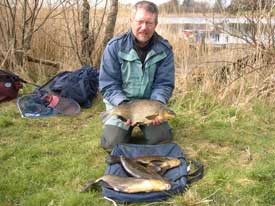 Richard and Ron from Birmingham stayed at Melview Lodge for their weeks fishing holiday. The week started with Roach and Hybrids. Kevin said that it took a few days for the Bream and Tench to wake up but they managed it in the end.
Lakes and Rivers are starting to produce as the temperatures begin to rise, Lanesborough has produced some good fishing and this will improve as the weeks go on.
The Lakes around Strokestown and Rooskey have been improving over the last few days, If you are going to start pre-baiting a swim for it's first time start with a small amount and then build it up is the best advice.