Staffordshire trio still manage to catch despite weather!!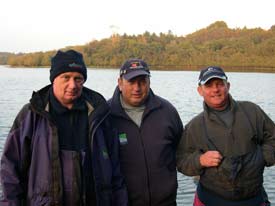 Kevin, Alan and Peter from Staffordshire had an enjoyable week. The changeable weather has seen weights drop off over the weeks, however the lads were able to put together some fairly decent weights each day in pre-baited swims, Bream, Skimmers and some good Roach. At the time of writing the lads have pre-baited and started a new venue, so hopefully some pictures in our next report.
Strokestown Lakes are still fishing but weights are down on previous weeks, few Bream were evident. Roach and some good Rudd are still showing. This time of year a small amount of pre-baiing before a session should increase chances of a decent bag of fish.
Roosky no report this week.