Tony, Dave, Mervin and Mike from Worcs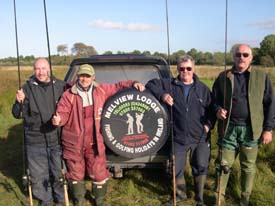 Angling guests of Melview Lodge – Tony, Dave, Mervin and Mike had an enjoyable weeks stay. They commented that the Bream failed to show despite some early mornings and hard work pre-baiting their swims. They did however manage to bag some fine Tench, Rudd, Roach and big Perch. The weather in the earlier part of the week was perfect with the exception of the last few days but all credit to them they stuck at their task and managed to pick up some good fish.
Strokestown Lakes are fishing well for Tench, Big Rudd, Roach and some big Perch. Bream catches are down recently and this must be due to the temperature fluctuations. At the time of writing there is heavy rainfall and high winds.