London Transport Angling Club visit Melview Lodge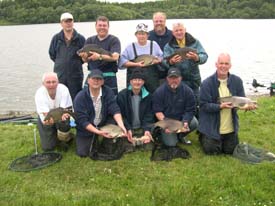 Thirteen anglers from the UK, angling guests of Melview Lodge, had mixed bags of fish every day with some good Bream and Hybrids caught throughout the week. This ensured they had a good time. The best individual weight was 123lbs from the Shannon. The Inner lake's have been responding to pre-baiting, skip breakfast and fish on the pre-baited swim at first light is the best advice. This will improve your chance's of a good catch.
Lake's around Roosky and Strokestown have been fishing well with some good mixed catches of Bream, Hybrids, Roach and Rudd, if you fish early and late into the evening you can expect some good Tench as well.