A few bream despite the hot weather conditions!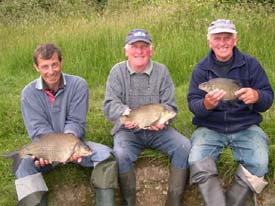 Tom, Stuart and Eric from Stoke on Trent, angling guests of Melview Lodge spend the week with Kevin and Jane at Melview. Tom had no big bags of fish but had some Bream and good Roach on a couple of the days. On other days the weather just got too hot and the fish seemed to switch off. Overall they had a a good week and enjoyed the hospitality.
Very warm weather conditions resulted in a reduction in the weights caught in previous weeks at some of the lake venues. The Strokestown lakes are still producing Bream and Tench.
No report for Roosky and surrounding area this week. Lanesboro power station was switched of for a while which saw all of the fish move back into the Lough. The power station is now on and on the day of writing this report Tuesday 5th July Kevin Lyons fished here and managed 57lbs of Bream and Hybrids in five hours so the fish are beginning to return once more.