Bolton anglers who braved the weather managed quite good catches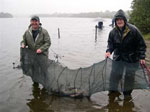 Geoff and Geoff, father and son from Bolton had a great five day's fishing while staying with Kevin and Jane at Melview Lodge, both braved the bad weather to catch fish. Both Geoff's had some nice Bream and Roach from a location close to Melview Lodge, they said Kevin showed us a few places which were in fishing form and we did the rest. Thanks for a great time.
Strokestown Lakes – have been affected by bad weather and rising water levels and the fishing has slowed down lately.