Good Catches Again for Angling Guests of Melview Lodge Longford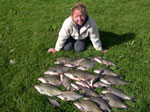 Richard and Kim from Romford, Essex had a great two weeks holiday when they stayed with Kevin and Jane Lyons at Melview Lodge Guest House, they said the fishing was great. Kevin found the fish in the local lakes and pre-baited for his guests. They had some good Bream, Hybrids, Roach.
Strokestown Lakes will start to fish again soon once weather becomes more settled.