An Abundance of Tench for Uk Visitors on The Strokestown Lakes and Roosky Areas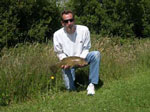 Another good catch of Tench for UK Anglers Bob, Matt and Dave, they said 'they had a great holiday staying at Melview Lodge'. Their main catch came on the last day of their holiday when they caught twenty six Tench between them. Kevin from Melview Lodge says 'there are still large amounts of Tench being caught in and around Strokestown and Roosky areas'. Very early morning and late evening sessions can be productive and of course any local knowledge you can pick up will be helpful.
Hybrids and Roach are being caught from around the Rooskey area. Tench, Hybrids and a few Bream are being reported from select pre-baited pegs on the Strokestown Lakes.